Desa Ca'ang: lighting up hope in an under-developed village
For Mak Otoh (73) being an elderly and blind did not dampen her spirit for teaching children 0f Sukaresmi Village to read and write the Qur'an.
Even though darkness has become a permanent part of her life, she cannot hide her happiness when her house was finally lit with electric light bulbs courtesy of the Desa Caang program (in Sundanese it means: illuminated village) that runs in her village. Since electricity illuminated the village, she felt that she has more time to teach children.
What Mak Otoh feels is just one example of the many benefits that 500 families in the sub-districts of Sukaresmi and Pasir Wangi, Garut, West Java, receive. Since 2016, Star Energy Geothermal Darajat II Ltd (SGD II) has launched a Desa Caang program as a form of company's concern to the status of certain villages within its operational areas which are still underdeveloped and do not have electricity.
Electricity is expected to boost the economy of the village, which will eventually improve the welfare of the villagers. In order to ensure that power operates sustainably throughout the village, the communities agree to pay a reasonable periodic fee. This commitment is triggered by the establishment of certain business units run by the communities.
A total of 51 units have been set up and the profit earned is used to finance the electricity of each member 's household. Bumi Runtah Token (BURUKEN) is just one of them.
Through this business unit, communities are processing organic and inorganic waste to become products of commercial value. Profits from the sales of these products will be used to purchase electricity tokens.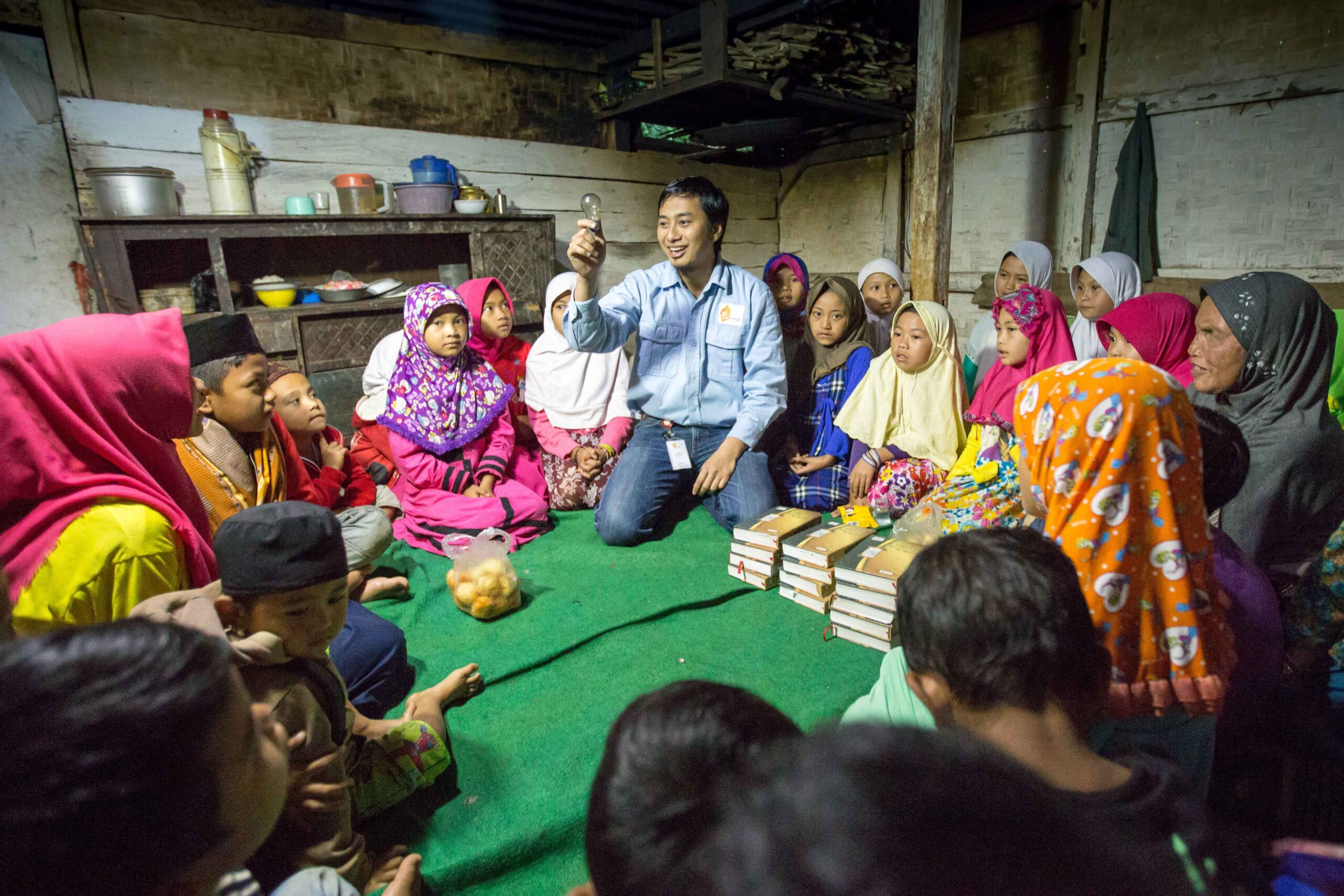 In response to the high illiteracy rate in the areas, this program was further developed to touch
educational sector too.
Through MASAGI (Sundanese term literally means understand immediately after reading) local school students as well as housewives are encouraged to improve their reading and writing skills via an approach based on local culture and wisdom.
In addition, the Desa Ca'ang program also touches on the environmental protection aspect, which then later on synergized with the aim of increasing the welfare of both sub-districts. A number of activities are being carried out to raise awareness of the potential risk posed by the conversion of forests into plantation areas without sustainable management. A deep understanding of how important the conservation of the environment and the proper use of forests should be cultivated among people on a continuous basis.
Almost all the main objectives of this program have now been achieved since as many as 500 families are now enjoying electricity. The four pillars of this program, namely ca'ang listrikna (light of electricity), ca'ang pesakna (brighter future), ca'ang otakna (greater knowledge) and ca'ang alamna (nature's light), have amalgamated into a light that illuminates the community by providing them with many positive improvements and changes.
Moreover, inclusiveness is also a central feature of this program. The system ensures that there is at least one person with disabilities out of the eight program beneficiaries. This shows, once again, how people like Mak Otoh can benefit from it.