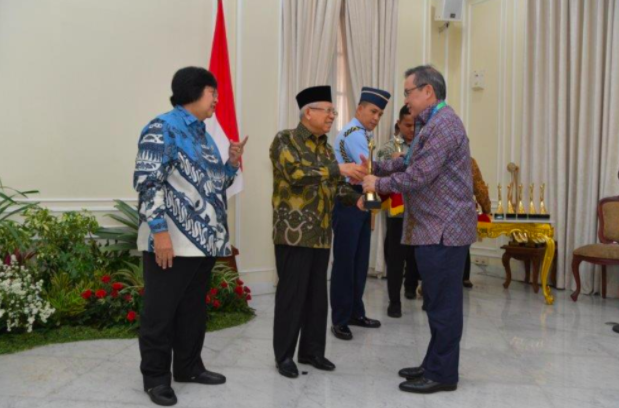 Star Energy Wins Two Gold and One Green PROPER Awards
Star Energy Geothermal Salak, Ltd. and Star Energy Geothermal (Wayang Windu) Limited have won again the highest award, PROPER Gold, in the environmental management performance appraisal program of a company (PROPER) designated by the Ministry of Environment and Forestry (KLHK). In addition, Star Energy Geothermal Darajat II, Limited also has won a Green PROPER award from KLHK.
Vice President Ma'aruf Amin, accompanied by Minister of Environment and Forestry Siti Nurbaya presented the award at the Vice President's Palace, Jakarta, Wednesday (1/8). The assessment was conducted in the 2018-2019 comprises criteria of the environmental management system, energy efficiency, water efficiency, water waste reduction, emissions reduction, biodiversity protection, B3 and non-B3 waste, and economic inequalities reduction by implementing community development program.
Group Chief Executive Officer Hendra Soetjipto Tan received the award to represent Star Energy Geothermal Salak (SEGS), Deputy Power Plant Operations Officer Suharsono Darmono was representing Star Energy Geothermal Wayang Windu, and Head of Darajat Power Plant Operation Fadruzil was representing Star Energy Geothermal Darajat.
In his remarks, Vice President Ma'ruf asked the companies that received the Gold PROPER to maintain their performance. "The obedience must be guarded, because if disobedience occurs caused by the industrial operations in the form of pollution and environmental damage, then it is essentially the same as seizing or taking the rights of others and ignoring the rights of others," explained the Vice President.
Hendra Soetjipto Tan as Group CEO of Star Energy Geothermal emphasized that this achievement proves that Star Energy Geothermal supports Sustainable Development Goals (SDGs) in accordance with Presidential Decree No. 59 of 2017 on the Implementation of Achieving Sustainable Development Goals. "The success of winning the Gold and Green PROPER Award for the three entities of Star Energy Geothermal point out our consistency on the environmental excellence in the production process and service as well as carrying out ethical and responsible business to the community."
The 2018-2019 PROPER assessment was conducted toward 2,045 companies, where 26 companies won Gold PROPER, 174 companies won Green PROPER, 1,507 companies got Blue PROPER, 303 companies were ranked Red, and two companies were ranked Black.