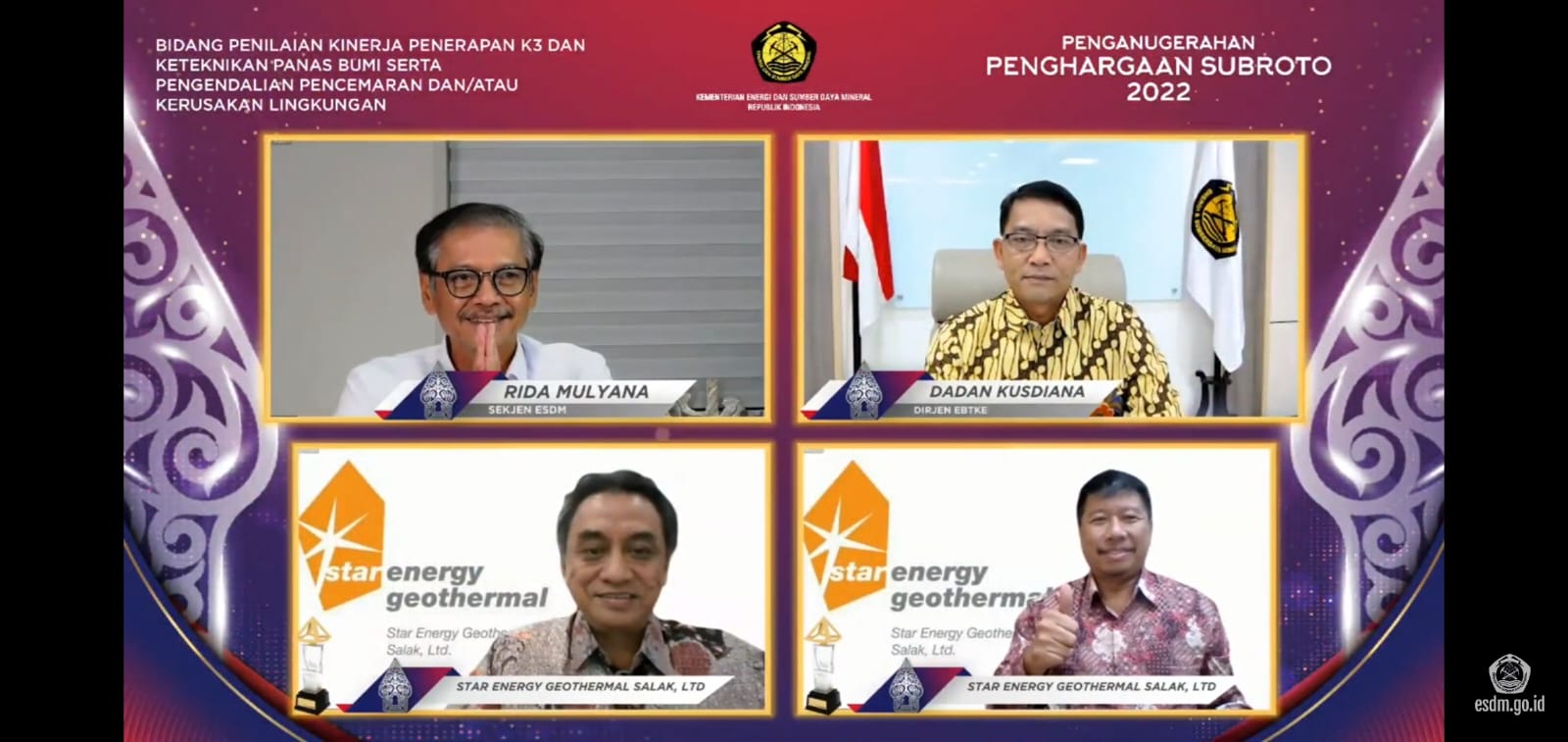 SEGS Wins the Highest Score of 2022 Subroto Award from the Ministry of Energy and Mineral Resources
Star Energy Geothermal Salak, Ltd. (SEGS) once again won the Subroto Award at the Award ceremony in the frame of 77th Mining and Energy Anniversary held by the Ministry of Energy and Mineral Resources (ESDM) in Jakarta, attended by the awardee virtually on October 4, 2022. The Subroto Award is the highest award in the ESDM sector given to stakeholders who have performed the best in advancing the ESDM sector in Indonesia.
Since the Subroto award began in 2017, Star Energy Geothermal through its operations in Salak, Darajat, and Wayang Windu had always participated in the assessment and received various best titles from the geothermal sector. In 2022, SEGS received this prestigious award with the highest score for the categories of Performance Assessment of Occupational Health and Safety (K3) and Geothermal Engineering as well as Pollution and/or Environmental Damage Control. This award was received by Act. Chief Power Plant Operations Officer, Mr. Suharsono Darmono and Head of Power Plant Operations Salak, Mr. Irwan Januar.
This achievement proves that the performance of SEGS in implementing K3 and controlling pollution or environmental damage is considered excellent. This is aligned with the company's operating principles to ensure the safety and health of workers, as well as provide clean and friendly energy. "This award is also an indicator of the company's commitment to operate safely and comply with regulations in protecting the environment, which has been carried out well by the management and all employees at Star Energy Geothermal," explained Mr. Suharsono Darmono.
Meanwhile, on the occasion of the Subroto award ceremony, the Minister of Energy and Mineral Resources of the Republic of Indonesia, Mr. Arifin Tasrif appreciated the efforts and innovations that have been developed by the awardee in advancing the ESDM sector. He further reiterated that the Government continues to anticipate changes in global energy policies which are currently transitioning towards clean, low emission, and environmentally friendly energy in order to achieve Net Zero Emissions by 2060 or sooner, in accordance with Indonesia's commitment at COP 26." The Ministry of Energy and Mineral Resources has compiled an energy transition roadmap to achieve Net Zero Emission by 2060," he said.
On the same occasion, the Secretary General of the Ministry of Energy and Mineral Resources, Rida Mulyana, hopes that this award will motivate and increase the contribution of the community in guarding the Government's performance in advancing the ESDM sector. *